News Involving MetaWorld Civil Consulting, LLC
MetaWorld Approved to be Flagler County Continuing Civil Engineering Services Consultant
On February 16, 2015 the Flagler County Commission approved MetaWorld to serve as one of their Continuing Civil Engineering Services Consultants. As a part of this contract, we will be involved in several public infrastructure improvements throughout Flagler County. The County can call on us for any of their Civil Engineering Needs.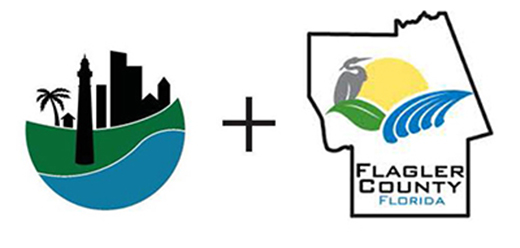 We look forward to serving the citizens of the County, and continuing to contribute to the responsible development of our local communities.
Daytona Beach Land Development Code Approved
The Daytona Beach City Commission adopted a new Land Development Code for The City of Daytona Beach. The new LDC will be effective March 1, 2015. All development applications submitted on or after March 1 will be processed based on the new LDC. A copy of the new LDC can be found at the following link: New Land Development Code.
As a member of VCARD, MetaWorld Civil Consulting took part in the review of the Daytona Beach Land Development Code re-write. We are excited to see it go into effect.
Dennis R. Leap, P.E. Join MetaWorld Team
MetaWorld Civil Consulting is happy to announce the addition of our newest team member, Mr. Dennis R. Leap, P.E. Dennis has 27 years of professional experience working for both public and private clients; on industrial, commercial, residential, institutional and public projects.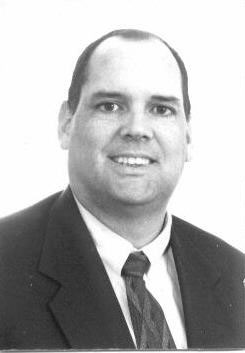 A former Vice President of a larger local engineering firm, Dennis understands the procedures involved with permitting land improvement projects in our area. His knowledge and experience are a valuable addition to our team. Please click here for more information about Dennis and his accomplishments.
MetaWorld Short-Listed for City of Edgewater LAP Project
We have been short-listed as one of the top 3 rated proposers on the City of Edgewater - Flager Ave. Sidewalks Project from 12th St. to Park Ave. We will be presenting to the selection committee on August 8.
Being short-listed on this project is a major honor for a number of reasons. This project is a Local Agency Program (LAP) grant funded project. That means that every proposer must be pre-qualified as an FDOT consultant, or the federal funds can't be used. Being short-listed on this project means that we are competing against the best in the market, and that we have beat at least 3 other, larger engineering firms. This is a major achievement.
We hope to continue this success through the presentation and hopefully win the project!
MetaWorld Civilc Consulting Recieves Official Notice of FDOT Pre-Qualification
We are happy to announce that MetaWorld is now pre-qualified by the Florida Department of Transportation to perform work on FDOT Roadways. This achievement is a major building block for our company as we move forward, and is typically reserved for very large companies.
This pre-qualification is a great testament to the quality of work performed by our team. These pre-qualifications require a history of exceeding expectations, as every dollar spent on FDOT projects belongs to the everyday tax payer. The Department will only pre-qualify firms that show competance and expertise, as well as the ability to communicate information properly. Furthermore, the firms that are pre-qualified have to have a positive prior history with the FDOT.
We are honored to be a part of the elite group of consultants that are pre-qualified to do work for the FDOT.
MetaWorld Managing Principal to Serve on Executive Council of VCARD
Our Managing Principal, Amir Malek, accepted a nomination today to serve as a member of the Executive Council for the Volusia County Association for Responsible Development (VCARD). VCARD serves both public and private interests when it comes to responsible development, by being actively involved in policy making procedures affecting land development and infrastructure improvements. As a member of the Executive Council, Amir plays a key role in execution of VCARD initiatives as well as ensuring those initiatives meet the interests of the development community in a responsible manner.
VCARD operates out of the Daytona Beach Regional Chamber of Commerce and works together with City and County Officials that are directly involved in the land development process. So in addition to giving MetaWorld the opportunity to be actively involved in the community, it allows us to build a great rapport with county-wide governing officials and permitting agencies.
To find out more about the VCARD and their activities, please feel free to contact us, or find more information on the VCARD website.
We are Ringing in the New Year from Our New Office
MetaWorld Civil Consulting, LLC is happy to announce that we have moved into an office location on beach-side in Daytona Beach.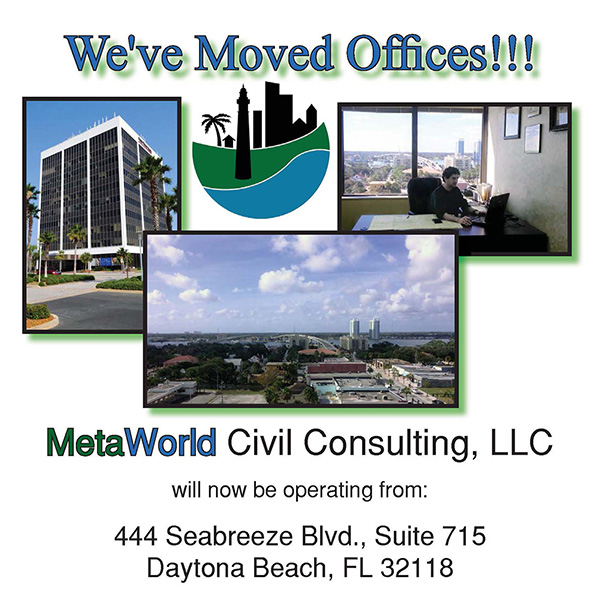 The building at 444 Seabreeze Boulevard has been a business landmark in Daytona Beach for many prestigious local, regional, and national companies since 1974. It is a growing commerce center that figures prominently in the development plans of the City of Daytona Beach. Centrally located in the City's business district, our new location allows us room to expand and better serve our clients.
$20,000 FPL Rebate Secured for Private Resident at the Spruce Creek Fly-In
We are happy to share that we have recieved confirmation from Florida Power and Light that we have secured a $20,000 rebate for one of our clients in Port Orange, Florida. Through our Green Energy Partnership Program with Solar-Fit, we were able to assist our client in procuring all parts and labor needed for their new 20.1 kW-hr solar installation, as well as securing the rebate for them. We will also be serving as the Engineer of Record for the permitting on the project.
This is an exciting step forward for MetaWorld Civil Consulting, as this will be the biggest solar installation we have been involved with so far. Additionally, this installation is in Port Orange, where our company started and currently operates from. Being so local, this will be an excellent opportunity to promote clean energy and sustainable development practices within our local community.
Widespread Power Outages in Volusia County
As widespread power outages hit Volusia County over night, we thought we would take this quick opportunity to explain how having a solar installation at your home would have saved you all the grief.
If you are one of those people who woke up late, we understand. Your iPhone battery died and the power went out. The sun woke you up and you ended up half dressed, running to your car, while brushing your teeth, and wondering what the hell happened. It was a tough morning. Well having a solar installation in your home could have saved you the grief.
Most solar installations are equipped with large back-up battery systems capable of powering your home for extended periods. In these solar installations, the back-up battery system is fully charged before powering the home and interacting with the electric grid. When the power went out last night, your solar system would have disabled it's connection to the electric grid, leaving you fully charged on your own independent power source. Additionally, unlike back-up generators, this back-up system is not limited by the amount of gas you have available, because it uses the sun for fuel. Just wait until the sun comes up and your back-up system is recharged.
So when considering a solar system, don't forget this benefit. If you have questions about it, ask us! We will gladly help you determine what you would need to make your household independent of the grid. We cherish the opportunity to help you on your way to living a more sustainable lifestyle.
MetaWorld Civil Consulting Permits their Inaugural Solar Installation Project
We are excited to announce that we have officially permitted our first solar installation project as MetaWorld Civil Consulting. Given our long term goals of benefitting our local communities and enhancing our quality of life, we hope that this inaugural step will help to instill some curiosity about sustainable development in the neighboring community.
This particular installation was for a 2.5 kW ground mounted array on a Farm in Volusia County, Florida. The client in this case was particularly concerned about the aesthetic effect that the array would have on their property, and wanted to use a ground mounted system that did not include the typical pole and rack system used in ground mount installations. As the Engineer of Record, we were able to design an innovative system which would provide maximum efficiency while being no taller than the existing fencing, and meeting the clients aesthetic requirements. Stay tuned for pictures when the installation is complete.
MetaWorld Civil Management to Appear as Guests of the WNZF News Radio Solar-Fit Renewable Energy Show with Bill Gallagher
We are very excited to announce that we will be on the Solar-Fit Renewable Energy Show on Saturday, June 1 with Bill Gallagher where we will introduce our company, speak about our goals, discuss topics on sustainable development and converse about whatever pops up. Make sure to tune in from 10:00 - 10:30 AM on WNZF NewsRadio (1550 AM or 106.3 FM). You can also catch the live stream at www.wnzf.com. Please check us out!
MetaWorld Civil Management Takes Part in NSF Award #2000750 on Renewable Engergy
This National Science Foundation (NSF) Grant was for a workshop on Solar Photovoltaic Systems. In this workshop, participants learned the basics regarding installation of Solar Panel Modules and the necessary electrical considerations from the initial planning, placement and sizing the modules to the installation and commissioning. The participants also had an opportunity to meet with Bill Gallagher, President of Solar-Fit and leader in the struggle to make renewable energy more commonly used in the United States and Florida particularly. Additionally, the participants of this workshop are responsible for the permanent solar panel installations at the Daytona State College Applied Technology Campus. We are very fortunate to have had the opportunity to take part in this NSF Award.
MetaWorld Civil Consulting, LLC Executes Contract with the Hong Kong College of Engineering
We are happy to announce that we have executed a contract with the Honk Kong College of Engineering (HKCE) to prepare course notes and presentations of 18 courses for their Civil Engineering Program. That's preparing 180 lectures! These particular courses are in the fields of "Construction and the Built Environment" and "Building Services Engineering". HKCE is a respected trade school that enjoys several international accredidations, including those required for a United Kingdom Higher National Degree. We are excited to begin this relationship with HKCE, and work with their professors to present quality class lectures to their students; where we can effectively contribute to our goal of promoting practices that are conducive to sustainable and environmentally responsible development.
MetaWorld Civil Consulting, LLC is Authorized by the Florida Board of Professional Engineers
On this day, MetaWorld Consulting, LLC was officially authorized by the Florida Board of Professional Engineers (FBPE) to peform Engineering Services within the State of Florida. This is a requirement of all legitimate engingeering companies. Being authorized by the FBPE as an Engineering Firm allows our company to perform services for government entities in the State of Florida, as well as provides us with additional leverage when applying for grants and other funding opportunities.
MetaWorld Civil Consulting becomes MetaWorld Civil Consulting, LLC
On this day, MetaWorld was officially certified by the Department of State as a Limited Liablity Company (LLC) organized under the laws of the State of Florida. A big day for us, we are officially founded! We are very excited to provide services in a multitude of civil, environmental and agricultural engineering sciences. Our company is dedicated to promoting and implementing practices conducive to sustainable and environmentally responsible development.
MetaWorld Civil Consulting Begins...
On this day, MetaWorld Owner Amir Malek fulfills his resignation notice with his previous employer and works his final day. At 5:00 PM on this day, Amir began devoting his full time efforts to founding and promoting his new company, MetaWorld Civil Consulting.